Fellows, students and alumni have paid fulsome tribute to Dr Neil Hopkinson, Director of Studies in Classics at Trinity, who died on 5 January 2021.
Professor Richard Hunter, Regius Professor of Greek at Cambridge, remembers 'an outstanding scholar of international reputation and a brilliant and devoted teacher of undergraduates for nearly 40 years.'
Neil's specialty was the Greek poetry of the Hellenistic age and the Roman empire; he was in fact one of the first anglophone scholars to take a serious interest in imperial Greek poetry, which is now enjoying a major revival of interest. His publications on Nonnus' Dionysiaca were path-breaking in this respect, and he also produced a splendid edition with translation of the epic poem of Quintus of Smyrna.

It was, however, as a specialist in Hellenistic poetry that Neil was known all over the world; his scholarly edition of Callimachus' Hymn to Demeter, one of the most fascinating poems to have survived from the third century BC, set a very high standard of philological rigour, and his CUP anthology of Hellenistic poetry, which for generations of students all over the world was the first and often the only entry to this post-classical world, reappeared in a revised second edition just months ago.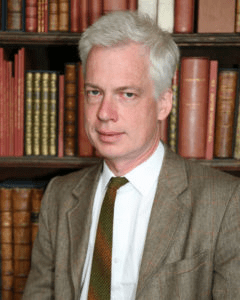 It was in Oxford in 1980 that Trinity Fellow, Professor Hardie, first met the young Neil Hopkinson, then a Junior Research Fellow at Peterhouse.
He was one of the stars at the then Oxford Regius Professor of Greek's seminar on the Hellenistic poet Callimachus, on one of whose Hymns Neil was writing a commentary. This was later published as his first book, a masterpiece of deep and judicious scholarship. Never showy, Neil simply knew more Greek than most Hellenists.

His Latin was equally impressive, on display in a commentary on a book of Ovid's Metamorphoses, published in the Cambridge Greek and Latin Classics series, of which he later became a highly valued series editor, not to mention in a string of elegant and lapidary compositions for memorial brasses to Fellows in the College Chapel. Neil was also a master of the now nigh-extinct art of composition in Greek and Latin verse.
Other publications in the Cambridge Greek and Latin Classis series by Dr Hopkinson include Lucian: a Selection (2008), Ovid Metamorphoses book 13 (2000) and An Imperial Anthology (1994).
Dr Hopkinson was a dedicated teacher, recommended by his students for Trinity's 2016 teaching prize, who trained generations of now eminent scholars.
'The lasting affection that he inspired in his students was clear to see at the party organised by them to celebrate his 30th year as Director of Studies at Trinity. No-nonsense and understated in manner, Neil was proud of his northern roots. He was a shrewd judge of people, with a mischievous sense of fun that could enliven conversations at High Table,' said Professor Hardie, Senior Research Fellow in Latin until his retirement in 2019.
Alumna Katie Lam, who matriculated in 2009, recalled 'a unique and remarkable man, a cult figure for generations of Trinity Classicists.'
We adored him — his dry wit, his gentle manner, his towering intellect, his quiet passion, his unwavering determination that everyone who studied under him should offer the very best of themselves.
In 2013, Ms Lam and fellow Classics student Natasha Kingham organised that celebration of Dr Hopkinson's 30 years as Director of Studies in Classics at Trinity, of which more below. 'It is a huge comfort that we were able to show Neil how much we loved him while he was alive, rather than waiting for a retirement party that would not have come,' said Ms Lam.
Professor Hunter said:
Neil was a witty and brilliantly understated teacher and colleague. He played out the role of the bluff Yorkshireman to perfection, but that bluffness concealed an unsurpassed knowledge of Greek and Latin, as well as a real care and concern for his pupils. He had a remarkable memory for their foibles, as well as their successes, and his pre-Tripos reading parties in the north of England will never be forgotten by those who attended them. We have lost a true individual and someone whom it seemed impossible not to cherish.
Trinity Fellow, Mr Nicholas Denyer, said Dr Hopkinson's students were very keen to pay tribute to 'a wonderful man, kind, gracious and full of enthusiasm.'
Among the messages from his students:
He was such a wonderful and vivid character, I still can't quite believe he is gone.

Neil was such a kind and funny person as well as a brilliant scholar. I feel lucky to have known him as both a teacher and a friend.

Neil was such a big part of my university experience and my studies of Classics and I will always be grateful to him for all the time he took supervising me and the advice he gave.

My thoughts are full of the wonderful times spent together with him on the reading party.

Neil meant a great deal to me and all his students, and to lose him so suddenly is terrible.

I owe him more than I can ever express. He will always be my model as Director of Studies.

I have a fond memory of him. He was a gentleman, kind, supportive, clever and funny.

He was such a dedicated teacher and committed to standards of excellence, even with recalcitrant students like me.

He was a good and kind man and I will always be grateful that he took a chance on me and offered me a place at the College.
Dr Hopkinson is survived by his partner, Dr Jane Hughes, President of  Magdalene College and Pepys Librarian, and their son, James, who studied Classics at Balliol and is now studying Law.
Katie Lam studied Classics at Trinity 2009-2013 and in her final year co-organised a celebration to mark Dr Hopkinson's 30 years as Director of Studies at Trinity. Now Deputy Chief of Staff at No 10 Downing Street, Ms Lam recalls the life-affirming experience of being taught by Dr Hopkinson and the effects he had on students.
Neil Hopkinson was a unique and remarkable man, a cult figure for generations of Trinity Classicists. We adored him — his dry wit, his gentle manner, his towering intellect, his quiet passion, his unwavering determination that everyone who studied under him should offer the very best of themselves.
I know this is true because in my final year (2013), Neil mentioned in passing that he was about to complete 30 years as Director of Studies in Classics at Trinity. Natasha Kingham (2010) and I promptly decided this must be celebrated with a party and as well as inviting alumni, we asked them for recollections of their time with him. The fond memories flooded in; I have tried my best to capture them.
Neil had a combination of qualities that made him extraordinary. He hated sentimentality, but was deeply caring and supportive of his students. He was never bombastic, but we were all captivated by his understated charm. He was inspiring, but through rigour, reason and common sense. He was direct, but unfailingly kind and remarkably generous. He was truly pained by our mistakes, but that always inspired us to drive for better, not feel inadequate. He had been Director of Studies for decades, and yet he forgave all our ill-considered inanities that he must have heard a thousand times before, and teased out more thoughtful contributions with his gently probing style. Despite having a truly great mind and cultivating an intellectual and rarefied atmosphere, he was a calming and reassuring presence, never pretentious or overly serious.
He banished snobbishness through various eccentric and wonderful habits and activities. He had an encyclopaedic knowledge of the Guinness Book of Records ('Have y'heard about the world's largest apple turnover?') He regularly served orange juice from a teapot at parties in his rooms in Great Court. He performed magic tricks he learned from an American book. He hosted a regular event called 'Dessert', where we would all eat copious quantities of puddings.
And, of course, there was the Reading Party — an annual week of walks, hearty food and Classical discussions in either the Lake District or Neil's land of origin, Yorkshire. I remember vividly in my final year careering around the Lakes in Neil's elderly Land Rover — crammed on the benches in the back with my contemporaries in an arrangement I can only describe as 'probably illegal' — singing along at the top of our voices to Aretha Franklin. And afterwards, likely some discussion on the finer points of Iliad I over fish and chips (Neil gleefully reminding everyone the chips were, 'unsuitable for vegetarians'), or perhaps quick fire drills of principal parts (the stems of verbs) on a cliff walk in the driving rain.
Neil took his pastoral duties seriously, likely modelled on his predecessor as Director of Studies in Classics, A S F Gow, whose Letters from Cambridge (missives of kindly concern and support sent to his former students during their wartime service) was a favourite of Neil's.
As part of his 30th anniversary memories, one former student told of how supportive Neil had been when she was grieving, talking to her about his own experiences of bereavement. When Professor Eric Handley was nearing the end of his life and could no longer visit his Trinity rooms, Neil boxed up the over 2,000 books Professor Handley kept there and rearranged them in his house just as they were in College, to his great delight.
His annual 'avuncular advice' for revision and exams exemplified his attitude to our degrees: there was nothing in there about how to prioritise this passage over that, or how to cram to plug the gaps. Instead, Neil impressed on us that it was crucial that for at least a month before exams began, we were not to work late into the night, to get eight hours of sleep, and to arise at 8am every day and have a hearty Cambridgeshire breakfast (advice we all promptly ignored — apart from the breakfast). For the papers themselves, as ever he advocated brevity and quality, or in his words, 'a short relevant answer is far better than a long, regurgitated screed of guff'. Neil did not believe in tips and tricks, but in quiet diligence and true scholarship.
I hope — and believe — Neil knew how much we loved him, though his own sense of reserve probably stopped him from appreciating the full extent of our admiration and ardour. When I congratulated him for winning one of Trinity's inaugural Teaching Awards in 2016, his response was typically matter-of-fact: 'I was very surprised to get the award. Remember to ask me how much it was.'
As one of the many, many loving alumni memories we received observed, one of Neil's most striking qualities was that he treated us as his equals. It came naturally to him, and by doing so, he inspired us to rise to his level. I'm not sure I ever quite managed it, but I know I am better for trying.